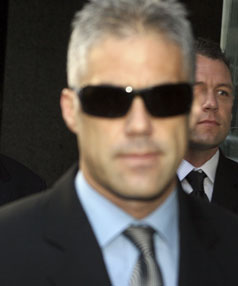 NERVOUS EXECUTIVES, worried that angry investors will seek revenge, are paying as much as $2000 a day to be flanked by bodyguards when preparing to face an out-of-pocket mob.
Hanover director Mark Hotchin had bodyguards with him at meetings of angry debentureholders in the run-up to the vote that sealed the sale of Hanover's loans to sharemarket-listed Allied Farmers, but he's not alone in taking such precautions, with disgraced Blue Chip boss Mark Bryers arriving at one court hearing in the company of burly personal security agents.
Hal October of October Security, which provides close quarter executive protection services, said prices varied with the degree of risk, but "ballpark, you are looking at 12-hour days and expenses of up to $1000 per bodyguard if it is a high risk job".
Judging risk for someone like Hotchin or Bryers was hard, October said: "There is always the risk of someone who has lost everything, depression sets in and now feels they have nothing to lose. That's the one you would be worried about."
20th December 2009 Sunday Star Times article
For a grand a day, an executive would get ex-military minders, or minders with serious martial arts skills, said October. But Rod Moratti, of Auckland protection firm Moratti & Associates, said bodyguards had no more rights than ordinary citizens. They couldn't carry weapons, and could only use reasonable force to counter attacks on their clients.
Moratti said the main purpose of a bodyguard is to deter threats through his physical presence, but there were limits to the protection an executive can expect, Moratti said.
"These are not Secret Service guys. They are not going to dive in front of a bullet."
There's a bigger demand for bodyguards in New Zealand than most people think, said Moratti, though much was due to demand from visiting VIPs.
"There's a lot more than you would think. You have got your rock stars and high flyers, but you also have your executives of big companies where there is a short-term threat," he said.
October said there were times when nervous foreign businessmen visiting New Zealand also contracted bodyguards for the duration of their visit, or to shadow them at functions.