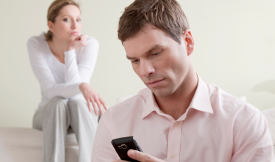 No one ever imagines that they will need to request a trust investigation be carried out on their spouse, but it is a regular occurrence. You are not alone and you have a right to know the truth.
By the time you read this page, you are virtually certain that your partner is being unfaithful. This is a tough time and you must be aware that it is not your fault. Many people feel guilty about requesting a Private Eye to follow their cheating wife, cheating husband or cheating partner but don't forget that they are the one committing infidelity – not you. You have a right to deal with this situation and having the evidence, peace of mind and support will make the task achievable. We have been through this process with many many clients and there is light at the end of the tunnel.

Moratti & Associates provide our clients with the answers in a factual but personal way and give you the guidance and proof to face any issue with assurance and peace of mind. You will deal with Rod personally and discretion is guaranteed.
What to do now?
Standard surveillance is NZ$120 per agent hour, plus mileage, any expenses and GST.
This will include travel to and from the site, usually 30 minutes each way.
We will normally require two agents in secure radio contact so we can swap around and maintain covert surveillance.
I will assess your enquiry and discuss the number of cars/agents we require to obtain the evidence you seek.
It is impossible for me to predict when activity will occur or how long we need to be on a certain job. But for the sake of an approximation, often clients will have a result within 5-10 hours.
To assist with this, if you have some idea about a pattern of behavior or when the activity is more likely to occur, then we will be able to focus our hours and therefore keep the cost to a minimum.
I will keep you updated as matters unfold and you will receive via email a detailed activity log and supporting evidence including any photos at the end of the operation.
If you decide to engage my services, I will require full details, start address, a photo, vehicle details and a retainer in advance.
Please go to the Contact page or call me on 0276958863 or email me at rod@moratti.nz and send me the required information as well as some background.
You are dealing with a difficult scenario here so I am here to help achieve the peace of mind you seek to carry on and make the decisions you need.
Surveillance normally requires two vehicles in secure radio contact so we can swap around and maintain covert surveillance. You need to allow travel time to and from the site.
We will provide you with detailed activity reports and solid supporting evidence including photos or video when possible. If you need peace of mind and need to know then Moratti & Associates are the agency to help.
Feedback from our Spouse Infidelity Investigations…
I will always remember you Rod. (Originally, I was expecting you to be a grizzly old man wearing a grubby looking brown jumper with the elbows worn out of the sleeves!) I was very relieved to discover that you were compassionate and caring, and a 'good looking' investigator who was there for me when I needed a friend. Thank you Rod!
Gail
I would like to express my sincere thanks to Rod & the team at Moratti & Associates for the recent help in an infidelity investigation conducted on behalf of my Mother and I to catch a cheating Father.
We never thought that we would need the help of a P.I. but there is only so much you can do yourself. We needed concrete evidence – instead of us just chasing paper trails. We were initially concerned that we would never be able to afford a P.I. to verify and conclude our findings. We were pleasantly surprised to find that Rod is able to put the cost of his services within reach of ordinary Kiwis. He was up front with us from day one.
Thanks to Rod and his team, my Mother has had all of her questions answered and is now free to move on with her life. You can't put a price on that kind of freedom. I would not hesitate in recommending Moratti & Associates to anyone looking for answers…."Seek & Rod will find"!!!
Sharon C.
I would like to thank you for your very fast conclusion to our request.
"Within 2 hours of our first conversation you managed to identify the suspects residence, produce evidential photos, car details and confirm the suspect was in residence. You managed that from only a name and possible telephone number. Within 8 hours you visually tracked down and identified the suspect and submitted a detailed report following confirmation against pictures we sent you. The next morning at 6.30 you mount a surveillance operation, keep me informed by text message and by 3.30pm produce photographs of the suspects in action. In my lawyers words "This guy is a professional"
Thanks once again, I hope not to have to use you again, but if I have do, I know what I to expect – pure professionalism!
Regards
Jonathan
Thank you, from the bottom of my heart, for the services you've provided. From all the information you have given me, I could tell that you tried your hardest and with detail. Words cant express how grateful my family and I are to you. Thanks to you, My sister and my family can move on in peace and try to live a normal life. It takes a strong and brave person to do what you do and I truly hope you know that you have helped someone tremendously.
Mr. Moratti…
THANK YOU!!!
Take care,
M